In search of creative ideas for your bedroom? Why not ditch the traditional nightstand and go for something a little more unique? There are tons of great alternative nightstands out there that can add personality and pizzazz to your space.
Do you need a nightstand but don't want to spend the money or use up valuable floor space? Check out these great alternative ideas!If you have a small bedroom, you might not have room for a traditional nightstand.

But that doesn't mean you can't have one! There are plenty of alternative options that will give you the storage and style you need without taking up too much space.Wall-mounted shelves are a great option for small bedrooms.

You can put them next to your bed and store things like books, magazines, glasses, or your alarm clock on them. Floating shelves are another option that would work well in a small space.If you don't want anything attached to your walls, try using a stool or small table as your nightstand.

You can tuck it in next to your bed and still have plenty of room for all of your nighttime essentials. Another idea is to use a basket or tray on top of an existing piece of furniture, like a dresser or desk. This way, you can easily grab what you need without having to get up from your cozy bed!
8 unique bedside table alternatives for tiny bedrooms
What Can I Do Instead of a Nightstand?
There are a few things you can do instead of using a nightstand. One option is to use a small stool or chair next to your bed. This can be used to store a few items such as a lamp, alarm clock, or book.

Another option is to use shelves on the wall next to your bed. These can be used to hold items such as pictures, plants, or books. Finally, you could also use baskets or bins underneath your bed for storage.

This is a great way to store items such as extra blankets, pillows, or clothes.
Is It Okay to Have Mismatching Nightstands?
If you're wondering whether it's okay to have mismatched nightstands, the answer is yes! There are actually many benefits to having two different nightstands.For starters, mismatched nightstands can add visual interest to your bedroom.

They can also give you more storage options and make it easier to access items on both sides of the bed. Plus, if one of your nightstands is taller than the other, it can create a more dramatic look in your space.Of course, there are a few things to keep in mind when choosing mismatched nightstands.

For example, you'll want to make sure that they're roughly the same size so that they don't look too out of proportion. You'll also want to pick nightstands that complement each other in terms of style and finish. But other than that, feel free to get creative and mix-and-match until you find the perfect pair for your bedroom!
Should Your Nightstand Be Taller Or Shorter Than Your Bed?
When deciding on the height of your nightstand, you should take into account the height of your bed. If you have a high bed, then you will want a taller nightstand so that it is at a comfortable level for you to reach when you are in bed. However, if you have a lower bed, then you may want a shorter nightstand so that it does not look too large in the space.

Ultimately, the decision comes down to personal preference and what looks best in your bedroom.
What'S the Difference between a Nightstand And a Bedside Table?
There is often confusion about the difference between a nightstand and a bedside table. They are both pieces of furniture that are placed next to the bed, but they serve different purposes. A nightstand is primarily used for storage, while a bedside table is more decorative and can be used for things like holding a lamp or storing books.

Here is a more detailed breakdown of the differences:Nightstands:-Are taller than bedside tables

-Have drawers or shelves for storage -May have a cabinet or cupboard for additional storage space -Can be made from any type of material, including wood, metal, or plastic

Bedside Tables: -Are shorter than nightstands and typically have one drawer only -May have an open shelf underneath the drawer for storage space

-Tend to be more decorative, with elaborate designs and finishes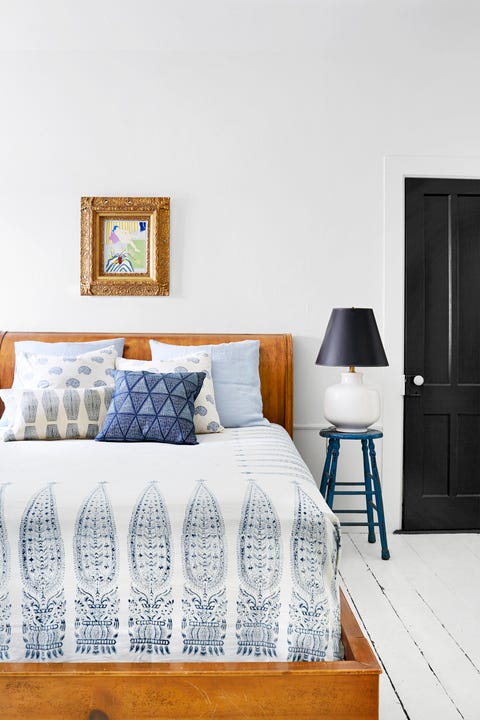 Credit: www.housebeautiful.com
Nightstand Alternatives Reddit
We all know how important it is to have a nightstand next to our bed. It's the perfect place to put a lamp, our alarm clock, and other nighttime necessities. But sometimes we just don't have the space for a traditional nightstand.

That's where Reddit comes in!There are so many great ideas for alternative nightstands on Reddit. From stacks of books to floating shelves, there's sure to be an option that will work for you.

And the best part? These alternatives are often more affordable than traditional nightstands!So if you're looking for a unique way to keep your nighttime essentials close by, be sure to check out Reddit.

You'll find plenty of inspiring ideas!
Unique Nightstands
There are many options available when it comes to nightstands. You can find them in a wide variety of styles, colors and materials. However, if you are looking for something truly unique, then you may want to consider one of these three unusual options for your bedroom.

1. A Stack of BooksIf you love to read, why not use a stack of books as your nightstand? This can be an attractive and functional option, especially if you choose an interesting mix of titles.

Just be sure to arrange the books so that they are stable and won't topple over in the middle of the night!2. An Old Trunk or ChestThis is a great option if you want to add some vintage charm to your bedroom.

An old trunk or chest can make a beautiful and unique nightstand. Just be sure to choose one that is the right size for your space and that has enough storage for all of your nighttime essentials.3. A Plant Stand

A plant stand may not seem like an obvious choice for a nightstand, but it can actually be quite lovely (and practical) if done right. Choose a pretty plant stand that compliments the style of your bedroom and top it with a lamp, some books or even a vase of flowers.
Creative Ideas for Nightstands
Whether you're looking to add a touch of personality to your bedroom or simply need a place to perch a lamp, nightstands are a necessary part of any sleep sanctuary. And while there are plenty of options on the market, sometimes it's more fun (and rewarding!) to put your DIY skills to use and create something unique. Check out these creative ideas for one-of-a-kind nightstands that will make your bedroom stand out.

Upcycled Nightstand: Have some old furniture pieces that you're ready to part with? Upcycle them into chic nightstands! This project from A Beautiful Mess is easy and affordable, plus you'll end up with furnishings that have tons of character.

Pipe Nightstand: If you're going for an industrial look in your bedroom, why not extend it to your nightstand? This design from Freshome uses copper pipes and reclaimed wood for a rustic yet polished finish.Teepee Nightstand: Add a little whimsy to your space with this teepee nightstand from Design Dazzle.

It's perfect for kids' rooms or bohemian-themed bedrooms!Ladder Nightstand: Looking for something different? How about using an old ladder as a base for your nightstände!

This idea from Homey Oh My gives new life to an otherwise unused item. Plus, it provides extra storage space thanks to the built-in shelves.Nightlight Nightstand: Make nighttime trips to the bathroom safer (and more fun!) by adding LED lights under your nightstände.

This tutorial from Brit + Co shows how easy it is to incorporate this feature into just about any type of table or cabinet.
Conclusion
If you're looking for some creative ideas for alternative nightstands, look no further! This blog post offers some great ideas that will add personality to your bedroom. From upcycling old furniture to repurposing household items, there are plenty of ways to get the look you want without spending a lot of money.

So take a look and see which option is right for you!